DELIGHTS
JÅRG GEISMAR
Soloshow
12 November 2015 - 9 January 2016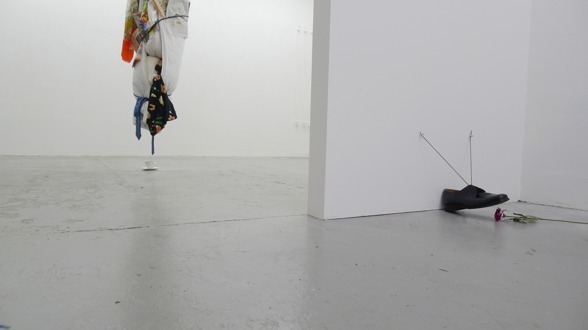 "Delights"
JÅRG GEISMAR
12 November 2015 – 9 January 2016
Jårg Geismar is presenting the expansive works in different medias with installations, photography and paintings, together with his signature titles in a bitter sweet, cheerful and positive sense

"Delights" is the title of Jårg Geismars first solo show at the gallery. We are proud to reintroduce him in the art scene of Stockholm. Jårg Geismar is a German artist, born on Gotland and based in Dusseldorf. He graduated from Dusseldorf Art Academy and has a MFA from Parson School of Design and New School of Social Research in New York in the 80´s. He spent extensive time in New York, Tokyo, Bangkok and Gotland. The wide range of his works goes from sculpture, drawing, painting, photography, film, installation, interactive work and performance.

His artistic breadth, width and depth is impossible to categorize. And difficult to predict. Events in the present, the site's expressions, available materials, all this together and act portrayed in his works. One can still assume that there is always a social commitment, an interest in human life and interpersonal relationships. This seemingly simple and mundane reassessed and re-materialize in Geismar work.

As Kenny Schachter, one of the authors of Geismar's recent book, described "He is also known for titles of his works and projects that are light, humorous and optimistic, but in depth they projects on critical topics aiming for an open dialogue with the audience."

In the site specific and humoristic work of Geismar How to get a mattress into a coffee cup in the gallery space one of Geismars most striking expressions of dialogue comes true; like a stage for humor and in the same time a stage for tragedy, as much like a scene for the theater as from real life, as much personal as common. This commutative entities makes life and art walk together in a contradictional dialogue. And once again quoting Schachter; "Geismar creeps and crawls into our consciousness like (nearly) invisible virus"

The title of the show, "Delights", is also imbedded with contradictions and an underline of questions about art and society. It raises a discussion about the beauty and joy of art in comparison to our time of increased commercialism and also of political activism, and about an unbalance between art and art business.

The line; the hand drawn line as well as the red cable, is a strong sign and nearly a trademark for Jårg Geismar. He always draws, every day, since childhood, and the lines he draws is both personal and reflective as well as something random that sharpens our sight. He draws on everything and clearly he often uses transparent materials as plastic, cellophane or glass panels. Those materials give the work a symbolic dimension of transparency, about hidden and shown, about private and common. There is also a sense of ambiguity about the piece, its combinative between drawing, reflection and moving image.

Jårg Geismar
is born in Gotland 1958, he lives and works in Düsseldorf, Germany and has lived and worked in Tokyo and in New York for long periods. He has, among other things studied at the Düsseldorf Academy of Art (1986) and at The New School of Social Research and Parsons School of Design in New York (MFA, 1988). Since 1995 he is a visiting professor and lecturer at several art academies in Europe, Asia and the USA. He is the founder of ATW - Around the World (1985), a global forum for interdisciplinary exchange. Since 1980, he has extensive international artistic activities with exhibitions at museums worldwide, numerous awards and scholarships. He is a well established artist in the international art scene. He was presented to the Swedish audience in 2003 with the major exhibition The Optimists on Liljevalchs. He participated in the show The Collectors at Uppsala Art Museum 2012 and he was also a part of GALLERY FAGERSTEDT first show – Observations 2014.

Selected biography
Exhibited at PS1 Contemporary Art Center, New York; The National Museum of Modern Art Tokyo, The National Museum of Modern Art Kyoto, The Contemporary Art Museum Kumamoto; Sagacho Exhibit Space Tokyo; The National Gallery Bangkok; the Fundacio Joan Miro Barcelona; Le Magasin-CNAC Grenoble; MAC Contemporary Art Museum Marseille; Göteborg Konsthall, Bildmuseum Umea; Konstmuseum Uppsala; BAC Baltic Art Centre Visby; Liljevalchs Konsthall Stockholm; Haus der Kulturen der Welt, Berlin; Kunstmuseum Düsseldorf, Kunsthalle Düsseldorf; Kunst und Ausstellungshalle Bonn and venues such 45th Venice Biennial, the 7th International Bienniale of Architecture, Venice, Cultural Capital of Europe Stockholm 1998 and Marseille-Provence in 2013. He received grants and fellowships such DAAD (for New York), Fondation Cartier pour l'Art Contemporain, Paris, Kunstfonds Bonn, AIAV Yamaguchi, Japan and IASPIS, Stockholm. Since 1995 he has been invited as lecturer and guest professor at various schools in Europe and Asia such HISK Higher Institute of Fine Arts, Gent; Musashino University, Tokyo, Silpakorn University, Bangkok; Kunstakademie Münster; Konstfack, Stockholm and Umea University.

Recent monographic publication Jårg Geismar "The Red Line" by Hatje Cantz with texts by Noemi Smolik and Kenny Schachter in English, French and German.
Cristina Karlstam recenserar Jårg Geismars utställning i Cora.se
Den röda tråden mellan konst och liv
Av: Cristina Karlstam
Den mångsidige Geismar med sin stora bredd i fråga om tekniker, material, uttryckssätt och tilltal lyckas hålla samman sina olika aspekter av detta att göra konst likt en schaman/konstnär/trollkarl, skriver Cristina Karlstam.

Om man lite förenklat skulle vilja markera att par dominanta drag i konstnären Jårg Geismars estetik skulle man kunna säga att nyckeln är den röda tråd som binder samman ett ovanligt mångsidigt konstnärskap. Eller omvänt: den röda tråd som kopplar till synes divergerande delar till en mångsidig helhet är bruket av nycklar.

När Geismar medverkade i Uppsala konstmuseums stora samlingsutställning The Collectors för några år sedan var hans stora installation bestående av hundratals husnycklar som Uppsalaborna samlat in och donerat, ett centralt verk i en i sin helhet mycket välcurerad utställning. Dåvarande konstmuseichefen Elisabeth Fagerstedt var dessutom framsynt nog att köpa in verket, ett helt rum med utplacerade,"hemlösa" nycklar på golvet, och konstverket ingår således nu i museets samlingar.

Nu har Elisabeth Fagerstedt sedan några år tillbaka skaffat sig en position som en gallerist med väderkorn och kontaktnät som gör att den ena sevärda utställningen efter den andra tagit plats i det lilla galleriet på Hälsingegatan i Stockholm. Och givetvis ingår nu samme konstnär i hennes stall tillsammans med sådana självständiga aktörer som Per Kesselmar, Natasha Dahnberg, Hyun-Jin Kwak, David Svensson och Maija Savolainen i kretsen av konstnärer som har galleriet som en av sina utställningsplatser. Och just denna höst är det Gotlandsbördige tyske konstnären Jårg Geismar som svarar för en liten men mycket representativ utställning, Delights, som mycket väl kan betraktas som en nyckel in till ett komplext konstnärskap.

The Red Line är inte bara titeln på den omfattande bok om Geismars konstnärskap som gavs ut av Hatje Cantz förlag för ett par år sedan. Det föll sig dessutom helt naturligt för mig att vilja rubricera den här texten med orden och att följa den röda tråd jag tycker mig se i hans utställning. Detta utan att ännu ha haft möjlighet ta del av den nämnda boken. Den mångsidige Geismar med sin stora bredd i fråga om tekniker, material, uttryckssätt och tilltal lyckas nämligen hålla samman sina olika aspekter av detta att göra konst. Om det handlar om möjligheterna eller omöjligheterna i själva konstskapandet och/eller livet självt är svårt att veta. Inför den stora skulpturen How to get a mattress into a coffe cup är jag först beredd att påstå att det rör sig om konstnären/schamanen/trollkarlens ofattbara kunskaper som gör att en hel madrass, ett antal huvudkuddar, tidskrifter och andra föremål visst kan rymmas i en liten kaffekopp. Konstens möjligheter är obegränsade i ordets konkreta mening och följer i sin konceptuella gestaltning inga lagar.

Men verket kan också läsas som en formulering gällande våra allra mest energiska försök att klara av tillvaron och alla dess ofta omöjliga uppgifter och utmaningar. Kanske är nycklarna som i denna utställning hängts på väggen inplastade och försedda med röda (livs)trådar ett sista lite desperat och övermäktigt försök att få upp den låsta dörren till livsmysteriet? Återstår gör i så fall endast konsten, men inte heller den känns helt pålitlig. Den röda porslinsrosen, både en natursymbol och en konstdito, är hotad att krossas av en svart herrsko upphängd i skosnören.

Men den röda tråden, ibland målad på stora fotografier, kan också brukas som ett kontaktmedel människor emellan. I utställningen visas några sådana bilder tagna i Tokyo och New York, två platser på jorden som Geismar gjort till sina. Vid sidan av Düsseldorf där han är bosatt och verksam som professor, och så Burgsvik på Gotland, där han tillbringade sina första sex år. Det var för övrigt därifrån har tog med sig "souveniren" å i sitt originella förnamn som egentligen varit något annat innan han flyttade från Gotland med sin familj. Så band han även samman länder och kulturer med sin egen person och sin konst.

Jag minns Geismars stora utställning The Optimists hos Liljevalchs konsthall 2003 där han förvandlade hela den spatiösa konsthallen till en enda stor installation med mängder av uttryck, fördelade i olika stationer. Det var en fascinerande helhetsupplevelse. Men även i det lilla formatet i galleriet på Hälsingegatan i Stockholm finner jag en liknande bredd och mångfald. Och gåtan Geismars budskap med sin konst förblir sympatiskt nog lika svårgissad även den här gången, de femtio nycklarna i ett av utställningens "nyckelverk" till trots. Och eftersom rosen är ett konstverk i porslin och inte en levande blomma är den inte underkastad allt levandes förgänglighet. Så behåller konstnären mystiken kring sina verk med en sympatisk blandning av humor och allvar.

Cristina Karlstam

Cora.se
Cristina Karlstam har recenserat Jårg Geismars utställning på cora.se
Den mångsidige Geismar med sin stora bredd i fråga om tekniker, material, uttryckssätt och tilltal lyckas hålla samman sina olika aspekter av detta att göra konst likt en schaman/konstnär/trollkarl, skriver Cristina Karlstam.