OM KONSTNÄREN
Hyun-Jin Kwak är född i Seoul i Sydkorea 1974. Hon bor och verkar i Stockholm. Hon har utbildat sig vid Hong-Ik University i Seoul och har påbyggnadsutbildningar från Konstfackskolan i Stockholm (2005) och UIAH i Helsingfors (2005-2006). Hon har haft en rad utställningar på konstinstitutioner i Sverige; bl a på Hasselblad Center 2006, Kulturhuset 2009, Uppsala konstmuseum 2012 samt på ett antal gallerier i Europa och i Korea. Kwak har blivit nominerad för flera stora europeiska priser inom fotografi såsom Prix Virginia, Prix Pictet och Fotografia Europea samt vann Hasselbladsstiftelsens Victor Fellowship Award 2005. Förutom Girls in Uniform har hon också arbetat med ytterligare projekt; The Island-A Case Study of a Collector's Mind, som resulterat i flera utställningar och en bok med samma titel (Revolver Publishing, Berlin), Study in Elements, Study of Landscape and Beauty och det pågående arbetet med Object Purview.

Sedan 1998 har Kwak haft en mängd separata utställningar på museer, konsthallar och gallerier över hela världen. Hon har erhållit en rad stipendier och priser och är representerad i museisamlingar i Europa och i Sydkorea. Hon fick stor uppmärksamhet i Sverige när hon för 10 år sedan visade serien Girls in Uniform med iscensatt fotografi. Kwak arbetar främst med just iscensättningar och kameran är hennes främsta verktyg. Hennes teman har en underliggande psykologi. Där finns något mer under ytan. Det kan vara människor som iscensätter en situation på en plats i naturen eller i en övergiven arkitektur som kan vara svår att kategorisera. Kanske finns en dold överenskommelse mellan personerna som agerar i scenen. Som betraktare är vi exkluderade från den totala förståelsen och vi kan känna en osäkerhet, vi rör oss på ett gungfly. Vi börjar tolka och gissa med hjälp av våra egna preferenser. Det liknar processen bakom att förstå ett nytt språk eller en ny kultur.

I arbetet med The Island - A Case Study of a Collectors Mind arbetar Kwak parallellt med iscensatt och dokumentärt fotografi. Boken med samma namn är uppbyggd på samma sätt, en del har dokumentära texter och bilder och en annan är fiktiv.
ABOUT THE ARTIST
Hyun-Jin Kwak born in Seoul, Korea in 1974, she lives and works in Stockholm. She has studied at Hong-Ik University in Seoul and has additional education programs from Konstfack in Stockholm and UIAH in Helsinki. Since 1998, she has had a lot of separate exhibitions at museums, art centers and galleries worldwide. She has received numerous scholarships and awards and is represented in museum collections in Europe and in South Korea. She received great attention in Sweden when she was 10 years ago showed the series Girls in Uniform with staged photography. Kwak works primarily with just stagings and the camera is her main tool. Her themes have an underlying psychology. There is always something more beneath the surface. There may be people who engineer a situation that we can not fully understand at a place in nature, or an abandoned architecture that can be difficult to categorize. Maybe there is a hidden agreement between persons who act in the scene. As a viewer, we are excluded from the overall understanding and we can feel the uncertainty, we are moving in a quagmire. We begin to interpret and guess with the help of our own preferences. It is similar to the process behind understanding a new language or a new culture. In the work of The Island - A Case Study of a Collector's Mind works Kwak parallel staged and documentary photography. The book of the same name is constructed in the same way, some have documentary texts and images, and another is fictional.

LÄS MER OM UTSTÄLLNINGEN "A STUDY OF LANDSCAPE AND BEAUTY" PÅ GALLERIET 2016
LATEST NEWS! Galleri Fagerstedt kommer att presentera verk ur Hyun-Jin Kwaks serie "A Case Study in a Collectors Mind" under Venedigbiennalen sommaren 2017. Platsen blir Palazzo Bembo vid Canal Grande med vernissage den 13 maj, samtidigt med biennalen. Det sker i samarbete med GAA Foundation och Venedigbiennalen under rubriken "Personal Structures" som är ett av biennalens samarbetsevent med utställningar i staden.

The Island – A Case Study of a Collector's Mind, Grand 1 – A View of a Lake and a Temple.
LaserPrint, silikonmonterad med ram
190x232 cm
Study of Elements 1
LaserPrint, silikonmonterad, 40x50 cm
Study of Elements 2
LaserPrint, silikonmonterad, 40x50 cm
Study of Elements 3
LaserPrint, silikonmonterad, 40x50 cm
Study of Elements – Encounter #2
C-print, silikonmonterad, glas, 100 x 80 cm
A Case Study in a Collectors Mind
Courtyard – onset of erosion and rot
Foto med text, glas och ram, C-print, Cotton Rag-papper, 95x80
A Case Study in a Collectors Mind
No longer any hierarchy amongst the objects. Foto med text, glas och ram, C-print, Cotton Rag-papper 95 x 80 cm
A Case Study in a Collectors Mind,
Stranded. C-print, silikonmonterad, glas
50 x 60cm
Girls In Uniform, Dig#2
C-print, silikonmonterad, glas
90 x 110 cm
Girls In Uniform, Game#2
C-print, silikonmonterad, glas
110 x 150 cm
Object Purview, Scopic Field
2016, c-print, lins, LED, trä, ø 30 cm
Object Purview, History of Mythologisation
2016, c-print, frame, LED, ø 105 cm
A Study of Landscape and Beauty
C-prints, aluminium, glass
#1, 80 x 100 cm
#2, 100 x 200 cm
#3, 200 x 100 cm
# 4, 80 x 100 cm
#5, 200 x 100 cm
Girls in Uniform: March
2005, C-print, silicon mounted, plexi
120x168 cm
Girls in Uniform: Agonist
2009, C-print, silicon mounted, plexi
150x200 cm
Girls in Uniform: Forest of Content
2009, C-print, silicon mounted, plexi
150x200 cm
Girls in Uniform: Game #3
2006, C-print, silicon mounted, plexi
110x150cm
Girls in Uniform: Game #5
2008, C-print, silicon mounted, plexi
110x145cm
Girls in Uniform: Game #4
2008, C-print, silicon mounted, plexi
110x140cm
Macondo 2
2008, C-print, silicon mounted, plexi
110x140cm
Macondo 1
2008, C-print, silicon mounted, plexi
110x140cm
Girls in Uniform: Part 1 - Prize/Dues
2003-2004, C-print, silicon mounted, plexi
52x68cm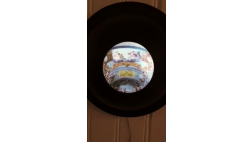 Elisabeth Fagerstedt har tidigare curerat museiutställningarna A Script for Verification (2006) och grupputställningen The Collector (2012) med Hyun-Jin Kwak samt publicerat katalogen Girls in Uniform (2006)